I really enjoy doing giveaways. They're fun and rewarding and someone is blessed with a copy of a book. Every time you enter a giveaway, it's ALWAYS a surprise to find out that you've won.
BUT. There are some books that just won't work for a giveaway. Sometimes it's the theme that doesn't match the book. And besides, you can't giveaway all your unwanted books. That would be crazy. I find that for me, specifically, it just doesn't work that way. Sometimes I want to get a good book in return, and give my book to someone who really really wants it.
So that's where YA Book Exchange comes in.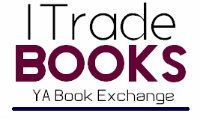 This place is a thing of beauty.
Krista and Becca started this website, and are also organizers and, well, they're just super duper nice. Their
blog is Nawanda Files
, a blog I have also become very fond of.
How does this awesome website work?
Well, you should read about Krista and Becca and their purpose
on this page
.
Then you should read the policies. They're quick and easy and good to have in mind.
Find them here
.
And once you've done this, you'll be saying, "Where are all those books that have been over-crowding my shelf that I don't want anymore?!" And BAM! You'll have a pile of books sitting next to you and
you'll be looking at this page
, which tells you what to do and how to do it. Fill out the form and (again) BAM! You're done. Your books will be posted by Krista and Becca and then people will see your books and say "Ooooh I want that one!" and will contact you and offer you a book or two or ten and you'll get to pick and it's GRAND.
(I hope that made sense. Phew! Can you tell I'm excited?!)
I've just had so much fun. Browsing and posting and trading. I've had one trade so far, and it's still in transit. And one lovely lady just sent me the book anyway, even though I didn't have any books she wanted! It's such a fun way to interact with other bloggers and get new books you actually want to read, instead of the bookshelves overflowing with books you've read and don't want anymore.
Like I said, it's a thing of beauty.
I bet you're not even reading anymore. I bet you're so enamored with YA Book Exchange that you're long gone. That's exactly the way I wanted it.
BUT....if you're still here, and you want to check out my list of books available to trade...
CLICK HERE.
ENJOY!
UPDATE: I have now completed FOUR trades! Since writing and scheduling this post a week ago! See, how great it is!! :) So enjoy!