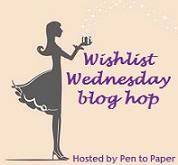 This is a weekly meme hosted by
Pen to Paper
! This is my first time participating and I'm very excited! :D
Before Peter Pan belonged to Wendy, he belonged to the girl with the crow feather in her hair. . . .
Fifteen-year-old Tiger Lily doesn't believe in love stories or happy endings. Then she meets the alluring teenage Peter Pan in the forbidden woods of Neverland and immediately falls under his spell. Peter is unlike anyone she's ever known. Impetuous and brave, he both scares and enthralls her. As the leader of the Lost Boys, the most fearsome of Neverland's inhabitants, Peter is an unthinkable match for Tiger Lily. Soon, she is risking everything—her family, her future—to be with him. When she is faced with marriage to a terrible man in her own tribe, she must choose between the life she's always known and running away to an uncertain future with Peter. With enemies threatening to tear them apart, the lovers seem doomed. But it's the arrival of Wendy Darling, an English girl who's everything Tiger Lily is not, that leads Tiger Lily to discover that the most dangerous enemies can live inside even the most loyal and loving heart.
From the New York Times bestselling author of Peaches comes a magical and bewitching story of the romance between a fearless heroine and the boy who wouldn't grow up.
______________________________________________
When I read this synopsis, every single time, I think I am going to burst into tears.
Peter Pan
does that to me. Anything related to
Peter Pan
does that to me. Do you know how beautiful this story sounds? How heartbreaking?!
Peter Pan
is not about Happy Endings. I have a feeling this is going to be a Forever Favorite, and that I'm going to be a complete disaster when I read it.
The cover is absolutely perfect. I love the colors and the font and everything.
Released: July 3rd, 2012
Goodreads
Barnes and Noble
Amazon
The Book Depository
What are YOU wishing for this Wednesday?